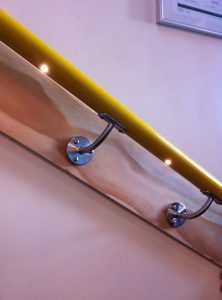 A new illuminated handrail has been added to the extensive portfolio of SG System Products' range of handrail and balustrading systems.
The Illumine range can be specified on the Stargard, Sentinel and Citadel handrail systems manufactured by SG System Products and the discreet LED inserts can be spaced to suit individual customer requirements.
Illumine provides direct lighting to stairs and walkways for both internal and external applications and this latest innovation from SG System Products enhances the company's ability to create bespoke solutions.
For the original "warm to the touch", DDA compliant handrail Stargard range, the stainless steel Sentinel and brass Citadel systems, Illumine offers a striking design-led solution that also improves safety. Illumine handrails can also be fitted to any of the company's balustrade products.
Illumine works by securely fixing individual LED INSERTS into the steel core of the handrail at between 250 mm and 1,000 mm centres. The light inserts are 316 stainless steel with the radius of the dome head at 21 mm (for 42/44 dia handrail) or 25 mm (for 48/50 dia handrail).
The installed lumen output of the insert is 119 Lm (5700 k), with an anticipated life of 100,000 hours.
Dimming and emergency options are also available, further increasing the flexibility of the Illumine range, and motion sensors can be used to control the inserts.
SG System Products offers a wide range of high quality, bespoke, hand finished, balustrade and handrail systems for stairs, balconies, atriums and ramped access (meeting the requirements of the DDA).