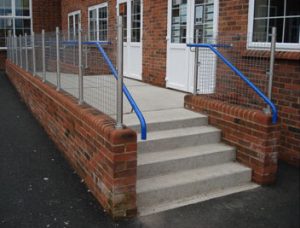 SG System Products tailored the Sentinel balustrade system to provide the balustrade for the internal stair and the external steps and ramp for a primary school in Surrey.
The access balustrade used balusters in satin polished stainless steel grade 316, with blue Stargard warm to the touch handrail, and infill panels of galvanized steel mesh. This resulted in an attractive, functional yet economic design.
The staircase balustrade was also required to have blue upper and lower handrail, therefore the Sentinel system was powder coated blue, but the brackets left as satin polished stainless steel. Infill panels were clear toughened glass and the landing panels were made to have the top edge of the glass higher than the handrail for additional safety.